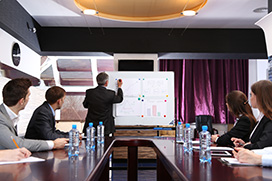 Our professional development services
Our professional development services are divided in three categories, as per below:
Our seminars include technical courses in the fields of auditing, assurance, compliance, corporate reporting and taxation as well as skills courses in the fields of human resources management, business skills management, marketing and sales.
Our customised trainings are based on the individual needs of every organisation and are delivered after a thorough study of the industry that our clients operate as well as an in depth knowledge of the specific client and the performance of our "know your client" procedure.
Professional qualifications
We offer our clients (industry professionals) with lectures for syllabus coverage, exam techniques and preparatory examinations in order to prepare them to take professional examinations such as the ACCA, CIA, CFE, ADIT, CFA and CIPR.
Available seminars
We provide seminars and trainings based on the below generic topics and their specialised sub-topics.
Generic topics
International Taxation
Corporate Reporting
Audit and assurance
Internal audit
Forensic Accounting
Risk Management
Management, strategy and leadership
Marketing and Sales
Human resources
Notes:
The above are just the generic topics. We provide concentrated seminars based the above topics and their specialised sub-topics;
Our seminars and trainings include the basic theory of the subject matter as well as case studies and workshops;
We also design and provide customised seminars and trainings (based on the above generic list) for professionals working in the legal business;
We welcome suggestions on topics and sub-topics based on our generic topics list above or on any other areas that our clients would like to be trained.
Professional development
02/10/2014